About
October 24, 2016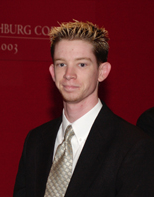 www.digitalpeer.com is the work and code of Joshua Henderson. This blog is basically a collection of his hobby projects, source code, overwhelming thoughts, and other things that may be of interest to the masses.
He's a geek, by modern definition. This is something that has developed from a fascination of computers, robots, and other challenging and creative avenues.
In 1997, he was a participant of the International Science and Engineering Fair in Louisville, Kentucky as a result of being the Alachua, Florida region overall science fair winner and Florida state 4th in engineering with an innovative diffusion cloud chamber design. In 1999, he placed 2nd in the Nevada state science fair with a full featured teleoperated robot with project title "Robotics for Hazardous Environments: The Investigative Rover 1." In 2000, he lettered in indoor and outdoor high school track for running the 2 miler and wrote administration software for the school computer lab. In 2003, he won best computer science program of the year at Lynchburg College while managing to place 139th in the Virginia 10 Miler. In 2004, he won the Outstanding Achievement in Computer Science award at Lynchburg College. Research projects included an instant messenger client that communicated with AOL instant messenger services and a fully designed and implemented P2P network based on a distributed hash table.
He left Virginia in 2004 where he was a Controls Engineer and Network Administrator for a small engineering firm while also programming for Framatome ANP, Inc. working on nuclear analysis software. Before graduating from Lynchburg College, he had been known to be a computer science tutor, the manager of Linux server administration for the entire computer science department, and a network administration intern for a local non-profit organization. From there, he went to work on embedded avionics information systems for Rockwell Collins in Iowa.
In 2007 he relocated to Las Vegas to become a Firmware Engineer for Progressive Gaming International Corporation, Inc. There, he continued his involvement in embedded Linux product development bringing Linux up on custom hardware and writing embedded applications.
In 2009, he joined Konami Gaming and worked on embedded Linux projects including board bring-up and extensive application development.
In 2014, he joined Microchip Technology Inc as a Principal Linux Engineer working on all things Linux.
He is an advocate of OSS, Linux, and creating better software leading to his involvement in a great deal of hobby projects focused on personal interest, innovation, and research.
Any source code available on this website, including scripts, is released under the GPL unless otherwise noted. All content on this website is provided "as is" without warranty of any kind, either expressed or implied, including, but not limited to, the implied warranties of merchantability and fitness for a particular purpose. The entire risk as to the quality and performance of the content of this website is with you. In no event unless required by applicable law or agreed to in writing will I be liable to you for damages, including in general, special, incidental, or consequential damages arising out of the use or inability to use content from this website.