Download
Eensy is a new project working towards the initial 1.0 release. Give it a try and open an issue if you run into any problems.
| | | |
| --- | --- | --- |
| | Version 1.0-rc2 | SHA1 |
| Raspberry Pi 2 | Download | 4d01eb199d8dc875ed1bf13e011cf81742a9dd40 |
| Raspberry Pi 3 | Download | 3a04ce5633bd3eb5542a114111d7d707ac4a47ca |
| Cubieboard 2 | Download | 0871660857146014db8967cfbcf8fa65d07acbee |
| Beaglebone Black | Download | 8c9f47f7eaf2c8d965c7b5ba9ee67417fb665750 |
See the archive for more downloads and older versions.
---
Quick Install Guide
Installation consists of extracting and writing the downloadable image to your uSD/SD card.
Windows
Use 7-zip to extract the img file.
Insert the uSD card into your uSD card reader and check which drive letter was assigned. Look at the left column of Windows Explorer.
Download the Win32DiskImager utility and extract it (it's a zip file).
Run the Win32DiskImager utility. You may need to run the utility as administrator. Right-click on the file, and select Run as administrator.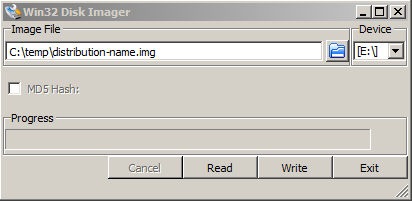 Select the eensy-XXX-YYY.img.xz file you extracted.
Select the drive letter of the SD card in the device box.
Click Write and wait for the operation to complete.
Exit the imager and eject the uSD card.
Linux
Insert your uSD/SD card and figure out what the device node is and replace /dev/sdX with it. Be careful here and make sure you use the right device. Simply extract and dd the image to your uSD/SD card in one pass.
unxz -c eensy-XXX-YYY.img.xz | sudo dd of=/dev/sdX bs=1M; sync

Now, plug in the uSD/SD card, attach an Ethernet cable, attach an external USB drive if desired, connect up a serial console so you can see what's going on, and apply power. Wait a couple minutes while the device initializes and then open a web browser to http://gitsrv or use the assigned IP address of the device.
For more detailed instructions and further information on using and configuring your Eensy install, see the documentation.